"This series just keeps getting better and better."
— Booklist
---
---


The Iris Fan || The Shogun's Daughter
The Incense Game || The Ronin's Mistress || The Cloud Pavilion || The Fire Kimono || The Snow Empress
Red Chrysanthemum || The Assassin's Touch || The Perfumed Sleeve
The Dragon King's Palace || The Pillow Book of Lady Wisteria || Black Lotus || The Samurai's Wife
The Concubine's Tattoo || The Way of the Traitor || Bundori || Shinju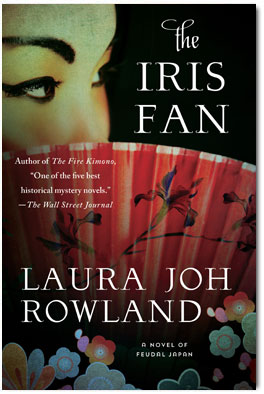 The Iris Fan
by Laura Joh Rowland
St. Martin's Minotaur ~ December 2014

Japan, 1709. The shogun is old and ailing. Amid the ever-treacherous intrigue in the court, Sano Ichiro has been demoted from chamberlain to a lowly patrol guard. His relationship with his wife Reiko is in tatters, and a bizarre new alliance between his two enemies Yanagisawa and Lord Ienobu has left him puzzled and wary. Sano's onetime friend Hirata is a reluctant conspirator in a plot against the ruling regime. Yet, Sano's dedication to the Way of the Warrior--the samurai code of honor--is undiminished.

Then a harrowing, almost inconceivable crime takes place. In his own palace, the shogun is stabbed with a fan made of painted silk with sharp-pointed iron ribs. Sano is restored to the rank of chief investigator to find the culprit. This is the most significant, and most dangerous, investigation of his career. If the shogun's heir is displeased, he will have Sano and his family put to death without waiting for the shogun's permission, then worry about the consequences later. And Sano has enemies of his own, as well as unexpected allies. As the previously unimaginable death of the shogun seems ever more possible, Sano finds himself at the center of warring forces that threaten not only his own family but Japan itself.

Riveting and richly imagined, with a magnificent sense of time and place, The Iris Fan is the triumphant conclusion to Laura Joh Rowland's brilliant series of thrillers set in feudal Japan.
---
The Shogun's Daughter
by Laura Joh Rowland
St. Martin's Minotaur ~ September 2013
ISBN 978-1-250-02861-7 (hardcover)
ISBN 978-1-250-02862-4 (e-book)
Five months after the great earthquake that devastated Edo, the shogun's daughter Tsuruhime dies of smallpox. It looks like a natural death, but Sano thinks it's murder. There are suspects who have designs on the throne and might have wanted to eliminate the shogun's daughter so that she couldn't bear a son and complicate the issue of whom the shogun will choose to be his heir and successor. There are also people who were close to Tsuruhime and wanted her gone for more personal reasons. Sano's quest for the truth about her death will unmask the most ruthless killer he's ever met and have serious repercussions for Sano, his family, and the future of Japan
---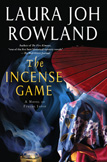 The Incense Game
by Laura Joh Rowland
St. Martin's Minotaur ~ September 2012
ISBN 0320148076
Winner of the RT Reviewers' Choice Award for Best Historical Mystery Novel
A massive earthquake strikes Japan, killing thousands of people and destroying most of the city of Edo. During the chaotic aftermath, Chamberlain Sano Ichiro finds three women dead inside a house that fell into a crack in the ground. They were in the middle of an incense game, in which players smell burning incense samples and guess what kinds they are. The women's bodies are abnormally well preserved, their eyes bright red. They weren't killed by the earthquake, and their deaths weren't natural. Sano suspects poison and murder. One of the victims is an incense teacher. The others are the daughters of a powerful lord. Sano must hunt the killer while struggling to rebuild Edo and help the earthquake survivors. His chief retainer, Hirata, clashes with the secret society of mystic martial artists he's joined. Sano's enemy, Yanagisawa, plots to regain the political influence he lost after the death of his son. Whose fortunes will rise because of the earthquake, and whose will fall?
---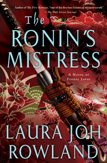 The Ronin's Mistress
by Laura Joh Rowland
St. Martin's Minotaur ~ September 2011
ISBN 0320148076
I n the fifteenth book in her brilliant series of samurai thrillers, Laura Joh Rowland presents a fresh new take on the legend of the 47 ronin, one of the most famous true stories in Japanese history. The year is 1703. On a cold, snowy night, 47 samurai attack the man they blame for their master's death and cut off his head. The vendetta is the ultimate act of loyalty that a samurai can perform. But it creates a firestorm of controversy, unanswered questions, and a serious dilemma. Why did the men wait so long to avenge their master's death? What should be done with the 47 ronin, who have fulfilled their duty to their master but broken the law? Should they be praised as heroes or executed as murderers?

Sano Ichiro, who had once been a ronin himself but had risen to the rank of Chamberlain, has been demoted to his former post as the shogun's chief investigator. The shogun orders Sano to find a seemingly impossible way through the maze of conflicting stories and loyalties. When Sano and his wife Lady Reiko investigate the case, they discover that the truth about the vendetta may hinge on the ronin leader's beautiful young mistress. The solution to the mystery goes straight to the heart of Bushido--the Way of the Warrior, the samurai code of honor.
---
The Cloud Pavilion
by Laura Joh Rowland
St. Martin's Minotaur ~ October 2009
ISBN 0320148076
Japan, 1701. A woman is brutally attacked within a nightmarish storm of swirling clouds. Meanwhile, at Edo Castle, samurai detective turned chamberlain Sano Ichiro is suspicious of his old rival, Yanagisawa, who has been oddly cooperative since returning from exile. But just as Yanagisawa's true motives begin to emerge, Sano's estranged uncle comes to him for help: His daughter has disappeared, and he begs Sano to find her before it is too late.
---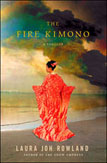 The Fire Kimono
by Laura Joh Rowland
St. Martin's Minotaur ~ November 2008
ISBN 0-312-37948-X
The strife between Sano Ichiro, the samurai detective who has risen to power in the shogun's court, and his enemies has escalated to the brink of war. Called away from the crisis by the shogun's orders to investigate a mysterious skeleton Sano and his wife, Reiko, must confront dangerous, long buried secrets. What was Sano's own mother doing on the night when a burning kimono ignited a blaze that destroyed the city of Edo? The shogun gives Sano and Reiko just three days to find out--or risk losing not only their position at court but their families lives as well.

Review || Read Excerpt || Order a Copy
---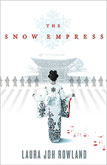 The Snow Empress
by Laura Joh Rowland
St. Martin's Minotaur ~ October 2007
ISBN 0-312-36542-X
The eight-year-old son of Chamberlain Sano mysteriously vanishes. Sano discovers that Lord Matsudaira, his political rival, has had the boy kidnapped and sent to the northern frontier island of Japan known as Ezogashima (Hokkaido). Something is rotten there: Communications between Ezogashima and the capital have broken down. Sano and his wife Reiko travel to Ezogashima to rescue their son and find themselves caught up in big trouble that involves the murder of a woman who belonged to the native Ainu people, a samurai warlord gone dangerously mad, and escalating racial conflict between the Ainu and the Japanese. Sano and Reiko must solve the murder if they want to escape Ezogashima alive.

---
"The newest addition to the Sano Ichiro series is like a beautiful prism with many colors. Turned one way, you get a compelling political thriller; another, and it's a fascinating historical saga; still another, and it's a poignant love story and turned once more, it's an intriguing mystery. Mix these components together and, with a gifted raconteur like Rowland, the final combination is an enthralling tale." — RT BOOKreviews
"Demonstrating an impressive level of sustained excellence, Rowland's mysteries set in 17th-century Japan form one of the best recent series in the genre. The 12th episode (after 2006's Red Chrysanthemum) delves deeper into the politics of an empire ruled by a figurehead as the background for a compelling and thrilling whodunit. Compelling pacing and well-rounded characters enhance the intriguing plot and will draw in new readers as well as longtime fans."
— Publishers Weekly
"Consistently fascinating and seductive, The Snow Empress is another top-notch mystery from Laura Joh Rowland. Rich in historical and cultural details, the intricately designed plot and compelling characterizations will entertain readers who enjoy unusual murder mysteries with exotic settings and provocative premises."
— Tim Davis, BookLoons Reviews
---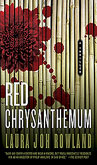 Red Chrysanthemum
by Laura Joh Rowland
St. Martin's Press ~ November 2006
ISBN 0-312-35532-7
Japan, 1698. Sano Ichiro may be a samurai sleuth and the shogun's trusted advisor, but his growing power at court makes him—and his family—a target for treachery. And this time a gruesome discovery brings especially tough questions. Lord Mori, heir to the shogun, is found grotesquely mutilated and murdered—with Sano's pregnant wife, Reiko, lying beside him naked and covered in blood. Sano himself is having trouble believing Reiko's hazy alibi. As Sano seeks the truth behind the Rashomon-like accounts of the murder, the stakes are almost unbearably high, and the only piece of evidence is a white chrysanthemum—stained red with blood.

---
"Rowland matches her talent for storytelling with her ability to render convincing historical detail in this long-running but fresh series."—Publisher's Weekly
"Besides the usual terrific look into late seventeenth century Samurai Japan, RED CHRYSANTHEMUM provides a fascinating twist as the principled Ichiro fears that what he will find will force him to choose between his beloved and his honor. His dilemma adds depth to the powerful insightful story line as this is the first time he doubts the veracity of his wife. Fans of the historical mystery series will treasure the eleventh entry in this top notch series that seems to get better as the years go by." — Harriett Klausner Reviews

"Laura Joh Rowland has created a spellbinding, tightly structured, and beautiful portrayal of love and loyalty in the midst of murder and malice in 17th century Japan."—BookLoons Reviews
---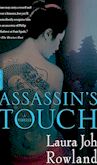 The Assassin's Touch
by Laura Joh Rowland
St. Martin's Press ~ August 2005
ISBN 0-312-31900-2
During a horse race at Edo Castle the shogun's chief intelligence officer drops dead as his horse gallops across the finish line—the fourth in a series of sudden deaths among high ranking officials. Sano Ichiro, now the shogun's second in command, is asked to investigate.
Meanwhile, his wife Reiko investigates the mystery of an outcast woman accused of murder. A single fingerprint and an unexpected connection between the two cases puts Sano on the trail of an underground movement to overthrow the regime, and in the path of an assassin with a deadly touch.

---
"... compelling story line, evocative detail ..."—Publisher's Weekly
"...an unforgettable portrayal of the Edo of 400 years ago. You can see, hear, taste, smell, even virtually touch Rowland's Japan. THE ASSASSIN'S TOUCH tends more toward the mystical than is usual for the Sano series. The final action is worthy of a beautiful Asian martial-arts movie, with bodies flying through the air — graceful, angry and unbound."—The Times Picayunne

"THE ASSASSIN'S TOUCH is a terrific Japanese historical police procedural ...action-packed with strong characters. Fans of the series will enjoy this latest treasure while newcomers will seek other Sano titles." —Harriet Klausner, The Best Reviews

"Even if you're not normally a mystery fan, Rowland's evocation of a fascinating, utterly foreign time and place is worth the price of admission. And, of course, if you are, there's her crisp pacing and sly, skillful challenges to Sano's ingenuity, which are just as entertaining as they've ever been."
—Ruminator, The independent magazine of arts, culture and ideas
---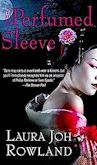 The Perfumed Sleeve
by Laura Joh Rowland
St. Martin's Minotaur ~ April 2004
ISBN 0-312-31889-8
Sano Ichiro, Most Honorable Investigator of Events, Situations, and People is faced with his most challenging case when he investigates the death of Senior Elder Makino, the shogun's most trusted adviser. There is only one puzzling clue—a torn, perfumed sleeve of a kimono. Under the watchful eyes of the shogun's cousin, Lord Matsudaira, and the shogun's second-in-command, Chamberlain Yanagisaw, Sano moves with caution. For each is eager to implicate the other in Makino's death. But Sano must determine whether the death was indeed murder, and if so, whether it was motivated by politics, love, or sex.
When a second violent death occurs, Sano is faced with several suspects, each with a compelling motive. Was it Agemaki, Makino's stone-faced second wife; Okitsu, his beautiful young concubine; Koheiji, his handsome male houseguest; or Tamura, his faithful retainer? Or was it a political assassination? With the help of his wife, Reiko, Sano must solve the murder as he discovers just how intertwined desire and danger really are...
---
"Its constant action and exotic environment will appeal to readers and add to Rowland's already large fan base."—The Times Picayune
---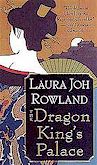 The Dragon King's Palace
by Laura Joh Rowland
St. Martin's Press ~ April 2003
ISBN 0-312-28266-4
While en route to Mount Fuji, Reiko, the beautiful young wife of detective Sano Ichiro, is abducted along with her pregnant friend Midori, the shogun's mother, and the deranged wife of the chamberlain. The women are imprisoned by a sinister, mysterious kidnapper, in a ruined palace. Back in Edo, the shogun demands quick action. Under the threat of death, Sano must work with his sworn enemies—Chamberlain Yanagisawa and Police Commissioner Hoshina—to rescue the women.
---
"A lively dissection of the samurai code of honor, sexual dishonor, palace infighting, and ancient Japanese mores."—Kirkus Reviews
"Rowland's masterful evocation of the period enables the reader to identify with the universal human emotions and drives that propel her characters while absorbing numerous telling details of a different culture and era."—Publishers Weekly
---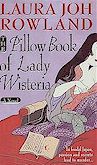 The Pillow Book of Lady Wisteria
by Laura Joh Rowland
St. Martin's Press ~ April 2002
ISBN0-312-28262-1
The scene is the Yoshiwara pleasure quarter, where prostitution is legal and all kinds of entertainment are available for a price. Handsome young Lord Mitsuyoshi, heir to the shogun, lies stabbed to death in the bed of Lady Wisteria, one of Yoshiwara's most beautiful, popular courtesans. Lady Wisteria is the only apparent witness to the crime, but she has mysteriously disappeared. Detective Sano Ichiro, his wife Lady Reiko, and his chief retainer Hirata must solve the murder case before their enemies can destroy them.
---
"Deftly combines a classic whodunit with vivid period detail."–Publishers Weekly
---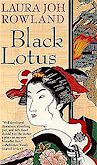 Black Lotus
by Laura Joh Rowland
St. Martin's Press ~ April 2001
ISBN 0-312-26872-6
A fire destroys a cottage within the walled compound of the Black Lotus Temple in Edo. A man, a woman, and a little boy are dead in the ruins. The only witness is a dazed teenaged girl, found at the scene. Detective Sano Ichiro is assigned to investigate the fire. He believes the girl is guilty, but in the course of his quest for justice, he finds himself facing a formidable adversary: Reiko, his beautiful beloved wife (and mother of his young son), who believes the girl is innocent and the truth about the crimes lies within the sinister Black Lotus Sect.
---
"Well-developed characters, a complex, absorbing plot and
rich historical detail should help win the author many new readers
as well as a place on mystery bestseller lists."
—Publishers Weekly (starred review)
"Like the big, sprawling novels of James Clavell, the Sano Ichiro mysteries are full of captivating detail, with lively characters and solid stories. Sano himself is a great character, a film-noir detective transported to feudal Japan, as real as any contemporary crime solver. For Rowland's fans, and for those who relish vivid historical settings, this is a must-read."—Booklist
---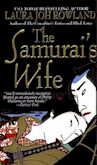 The Samurai's Wife
by Laura Joh Rowland
St. Martin's Press ~ May 2000
ISBN ISBN 0-312-20325-X
While investigating a high-level murder in Miyako, the Imperial Capital, samurai detective Sano Ichiro and his wife Lady Reiko undertake a desperate search for a killer whose method is as terrifying as it is elusive: Only the most powerful warriors possess the secret of kiai, the "spirit cry" that can kill a man with a scream. Surrounded by treachery and mounting danger, Sano and Reiko must find safe passage through the mazes of court intrigue—and the machinations of their enemy, Chamberlain Yanagisawa—before the repercussions of the violence in Miyako can destroy the entire nation.
---
"Rowland delineates the class distinctions of her characters with subtlety and pulls together the strands of her multifaceted plot with enviable grace"—Publishers Weekly
"An authentically detailed and wonderfully involving historical novel."—Library Journal
"It's quite a trick to create women in this time, in this place who are the focus of interest and action . . . But Rowland does it with flair, just as she renders the swordplay and exotic, well-researched details of day-to-day life at every level that have helped make her other four books so popular."—Times-Picayune
---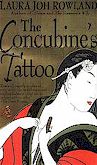 The Concubine's Tattoo
by Laura Joh Rowland
St. Martin's Press ~ December 1998
ISBN 0-312-19252-5
Samurai detective Sano Ichiro tackles his most challenging case yet when the shogun's favorite concubine, Lady Harume, dies of a poison tattoo on a very private part of her body. While Sano's worst enemy, the corrupt Chamberlain Yanagisawa, plots against him, Sano investigates Lady Harume's lovers, rivals, and troubled history in a quest to identify her killer before political tensions erupt in a bloody purge of potential culprits. An added complication is Sano's arranged marriage to Lady Reiko, who is not the traditional, obedient wife Sano expects, but an intelligent, headstrong, aspiring detective bent on helping him solve the mystery of The Concubine's Tattoo.
Read an Excerpt || Order a Copy
---
"Rowland's understanding of the society she depicts shines through, and she succeeds in presenting Sano as an intriguing combination of wiliness and decency, making this a good bet for fans of historicals as well as of mysteries past."—Publishers Weekly
"Rowland is deepening and broadening her distinctive series in interesting
ways. She expertly evokes an exotic world--in its difference and
brooding darkness—that can be confused with no other . . .
Both author and detective come through with colors flying."—Times-Picayune
---
The Way of the Traitor
by Laura Joh Rowland
1997
The year is 1690, and the place is Nagasaki—a city where superstition, politics, and greed reign supreme, and a corrupt government which fears foreign invasion like a plague rules with an iron fist. It is here that the mutilated body of Jan Spaen, a prominent Dutch trader and one of the few Westerners in Japan, washes ashore. Sano Ichiro, the shogun's Most Honorable Investigator, finds himself exiled to Nagasaki and immersed in a dangerous search for an elusive killer. Every clue lures him deeper into an investigation that could implicate powerful individuals and plunge Japan into war. Nothing is as it seems, and no one can be trusted. Spies lurk in every corner, waiting to accuse Sano of following the way of the traitor—a crime punishable by death. As East meets West with catastrophic consequences, Sano must find the murderer, for at stake is not only his samurai honor, but his very life.
---
"Like Umberto Eco's classic, The Name of the Rose, Rowland's novel is an excellent whodunit. Highly recommended for all mystery fans."—Booklist
"It's a fascinating, detailed, colorful, and addictive world that Rowland has created for her detective—and her readers. The lines are as fine as those on a scroll—each beautiful on its own, together creating an intricately patterned whole."
—Times-Picayune
---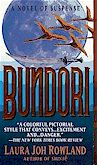 Bundori
by Laura Joh Rowland
1996
In the misty streets and alleys of Edo, Japan's feudal capital, a serial killer lurks. Each victim is rendered up as a severed head, nailed to a plank, offered for public display as a bundori: a war trophy in samurai military tradition. Detective Sano Ichiro, newly promoted to the new position as the shogun's Most Honorable Investigator, tries valiantly to follow Bushido—the Way of the Warrior—as he strives to bring the killer to justice. Will his attempts be foiled by the villainous Chamberlain Yanagisawa? Or will he succeed through the help of the beautiful and mysterious Aoi, a mystic trained in the ninja arts? As it becomes obvious that the killer is one of three powerful men, Sano must reconcile his noble heritage with his duty to the shogun. Will trapping the murderer lead to prestige and glory for Sano...or disgrace and forced ritual suicide?
---
"Rowland excels at conveying the look, feel, and mentality of feudal Japan . . .
Bundori is one of those mysteries in which the itch to find out whodunit recedes before the pleasure of prowling through a different world."
—Washington Post Book World
"This book is so good you won't want to put it down . . . Rowland has hit her stride as a writer who can deal equally well with the pacing of plot, and the nuances of character development . . . Shinju was good; Bundori is terrific."
—Times-Picayune
---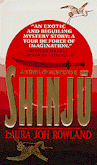 Shinju
by Laura Joh Rowland
1994
It is January 1689 in Edo, the city that would one day become Tokyo. The bodies of a beautiful noblewoman and a male commoner, bound together, are dragged from the murky Sumida River: a typical shinju, a ritual double suicide committed by a pair of star-crossed lovers. But when Sano Ichiro, a teacher, samurai, and reluctant police officer, begins a routine investigation, he comes to suspect murder. Disobeying direct orders to close the case discreetly, he pursues elusive answers from the ornate mansions of the highest born daimyos, to the gaudy pleasure quarters of the lowest classes, from a cloistered mountaintop convent to a horrid prison where death is a blessing. He risks his family's good name and his own life to solve a crime that nobody wants solved. As he unravels the twisted story behind the deaths, he stumbles upon a trail of deceit and assassination that threatens the very underpinnings of the shogun's Japan.
---
"An exotic and beguiling mystery story; a tour de force of imagination."
—Robert Harris (author of Fatherland)
"Impressive . . . An eerie Japanese echo of Presumed Innocent."
—Kirkus Reviews
"Serpico, meet James Clavell . . . Rowland is a sturdy, persuasive storyteller,
and well worth keeping an eye on."—Washington Post Book World
"The year's most sparkling debut . . . one of its best novels . . .
An unusual and exotic mystery . . . "—San Diego Union-Tribune
---

"Sano remains one of the great protagonists of the last few years."
—Harriet Klausner, The Best Reviews
---
---